Jessica Biel on the cover of Harper's Bazaar' August edition looking beautiful in a gown from the Calvin Klein Collection.  Dancing with Designers is a spin on the show, Dancing with the Stars.  Nice way for a magazine to tie into what's hot on tv.  The spread includes pics of:
Biel & Diane von Furstenberg doing the Charleston
Biel & Zac Posen waltzing 
Biel & Vera Wang setting the scene for a ballet
Biel & Oscar de la Renta doing the Cha Cha
Biel & Calvin Klein's Francisco Costa dancing the paso doble
The pictures are gorgeous of course but I love to see the movement behind the shot.  Check out the youtube vid (below) for some great tidbits.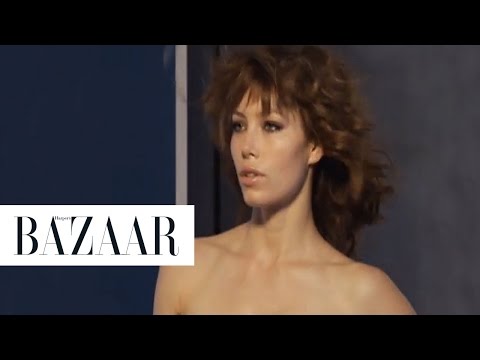 Ruben Toledo Alert, Don't Miss…
     the Salvador Dali inspired pages right after the Jessica Biel spread.  Photographs by Richard Burbridge, Illustrations by, my favorite, Ruben Toledo.  Remember Ruben from Nina Garcia's Little Black Book of Style?  Don't miss his NEW book FASHIO-N-ATION out August 2008.
FASHIO-N-ATION is described as a, "…collection of over 150 drawings, water colors and pen and ink portraits by artist Toledo explores with his typical Cuban Black Humor and sweetly cynical New Yorker's eye the ever changing landscape of fashion and the body language of style." Steidl
I'm dying to see this, but with a retail of $360 I'll be requesting an inter-library loan some day.  Until then I'll hang onto the Harper's Bazaar pages.
Tags:
biel
,
book
,
books
,
dali
,
dance
,
dancing with the stars
,
designers
,
fashio-n-ation
,
fashion
,
illustrators
,
inspired
,
jessica
,
jessica biel
,
magazines
,
mags
,
photo
,
photographs
,
print
,
reviews
,
ruben
,
ruben toledo
,
television
,
toledo
,
tv