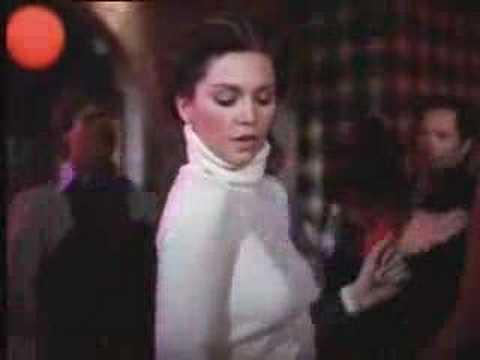 Earth Day has now officially passed so it's time for a mayday for all of us who can't seem to get to sleep!  My husband and I are guilty, he's doing his last two classes to get his Master's degree all night every night and I'm watching crazy stuff on youtube like Rihanna in Dallas till the wee hours of the morning.  I LOVE the original scene so when I saw this dub with the Rihanna song it kills me.
And YES, I am the BIGGEST Dallas fan there ever was, or ever will be, thanks for asking.  One of the reasons is because Dallas is so much like a telenovela.  Dallas just needed a creepy clown or strange pet involved in the show.  Another reason is Bobby Ewing dates a latina, I'm sure of it, I just can't find the evidence needed to make such a claim!  I remember thinking Patrick Duffy would someday bump into me in NYC and sweep me away because I was just his type… *sigh*  I am very happy to hear that he's happilly married and has been for a loooong time but it still stings.  And I should also mention that I love Victoria Principal, one of these days I will buy your Principal Secret skincare if it's still for sale – I swear it!
No wonder I can't get any sleep thinking about all this and here we are almost in May which is Better Sleep Month!  yawn, sounds like it could put you right to sleep?  great, because that's what the aim of this post is, keep reading here are some sleep tips.  Dr. Michael Breus, PhD is a sleep expert and author of Beauty Sleep:  Look Younger, Lose Weight and Feel Great Through Better Sleep…
*Take a hot bath: "Taking a hot bath before bed heats up our body's core, then cools it down just like the process when we sleep," says Dr. Breus. "Therefore a hot bath can trigger a biological function that our bodies associate with being at rest." 
*Get a relaxing massage: "A relaxing massage is a great way to de-stress and help us get ready for bed," says Dr. Breus. "Ask your partner to give you a massage using Bath & Body Works Aromatherapy Sleep Body Lotion to help relax or apply the formula yourself very slowly, taking deep breaths along the way."
*Be aware of surroundings: "Our surroundings play a huge role in the quality of our sleep," says Dr. Breus. "By using the Bath & Body Works Aromatherapy Sleep Pillow Mist on your bedding you are creating a calm environment that is conducive to sleep."
If you enjoyed these tips, let me know and enjoy every second of May Sleep Better Month!  That Sleep Pillow Mist is on my must get list in the very near future on sale at www.bathandbodyworks.com and your local stores! 
Tags:
beauty
,
beauty sleep
,
bobby ewing
,
dallas
,
latina
,
May
,
rihanna
,
sleep
,
sleep better month
,
sleep tips
,
t.v.